Things have not gotten any better in the Book Buying Rehab Facility. Actually, I wouldn't know since I promptly escaped and bought more books than I have ever bought in one month before.
It's like I think I'm made of money and have nothing else to spend it on (FYI: I'm not and I do).
After the thrill of opening up books as birthday presents, I went on a kick for physical books again which leads to the first five books on the list.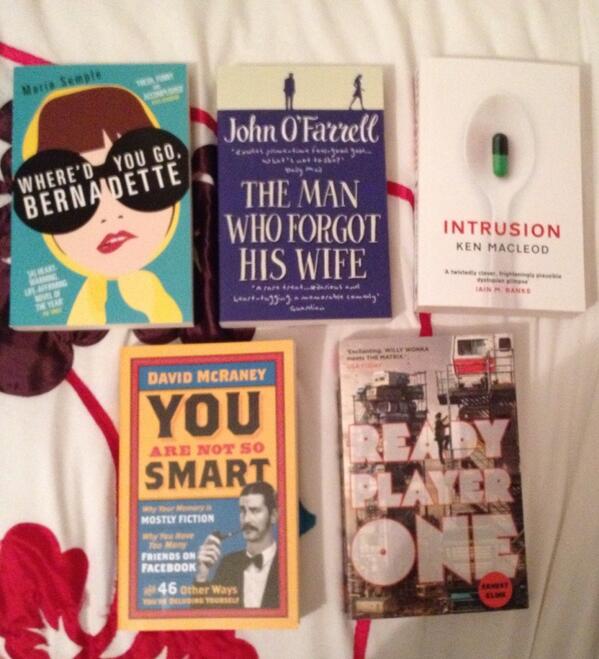 Ready Player One – Ernest Cline
One of two books I discovered because of booksandquills book haul videos. In a dystopian future, the protagonist, Wade Watts, is on the hunt in a virtual utopia for creator James Halliay's fortune which he hide in his video game prior to his death. For years, all efforts to find the fortune were useless. Until Wade finds the first key.
I can't say I'm hugely into dystopian fiction but the concept and the first chapter really caught my eye. Considering I was on a book buying binge so I went for it.
Intrusion – Ken MacLeod
The next book from the book haul and another dystopian story centering on a world where it is possible to eliminate may common genetic defects from an unborn child with one pill. The story follows Hope, expectant mother of her second child, who refuses to take the pill or, as it is known in this world, The Fix. It appears it isn't easy to make your own choice anymore.
One reviewer on Amazon states that in the society in Intrusion "The control and coercion in is something that society is doing to itself, always with the best of intentions" which stood apart from me regimes controlled by an evil head-figure or party and world's destroyed by disaster.
You Are Not So Smart: Why Your Memory Is Mostly Fiction, Why You Have Too Many Friends On Facebook And 46 Other Ways You're Deluding Yourself – David McRaney
This is the second time that I've ended up buying a book purely because of the author's blog (the first being Chuck Wendig), You Are Not So Smart, which is quite an interest idea and makes me think I should make the writing on my blog a little more spunky (even if there is no book to buy).
This book looks to change misconceptions about why we think and act the way we do. Each chapter begins with two statements: the Misconception and the Truth.  I also bought the sequel to this a while ago so hopefully it will spur me to read that and check another book off of my list of unread Kindle downloads! McRaney's blog, You Are Not So Smart, has a lot of podcasts and posts similar to this and for anyone who is remotely interested in the psychology of why we make decisions and are the way we are, I highly recommend it.
Where'd You Go, Bernadette – Maria Semple
I'm not actually sure what drew me to this book. Great reviews? Spiffy cover? Maybe it was the idea of a book focused on the relationship between mother and daughter while still being (from what I can tell as someone who hasn't read it yet) satirical and funky. Or maybe I had seen it too many times to ignore it any longer.
Bernadette Fox is a force of nature and to her 15 year old daughter Bee, her best friend. When Bernatte disappears, Bee "must take a trip to the end of the earth to find her.
The Man Who Forgot His Wife – John O'Farrell
I have genuinely pick up this book in so many places to read snippets and random chapters: bookshops, train stations, airports, amazon. Eventually, I had no excuse anymore and I was getting sad about leaving it behind.
Vaughan has forgotten he even has a wife. Her name, her face, their history together, everything she has ever told him, everything he has said to her – it has all gone, mysteriously wiped in one catastrophic moment of memory loss. And now he has rediscovered her – only to find out that they are getting divorced.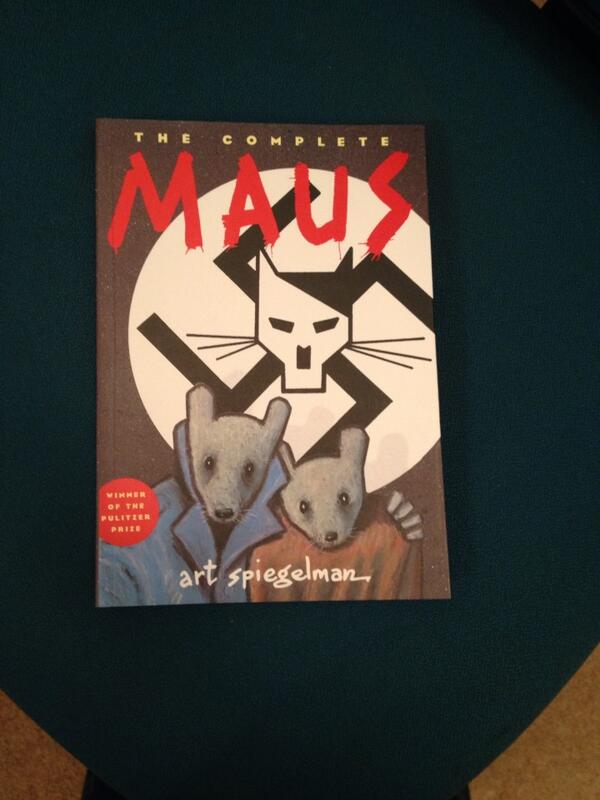 The Complete Maus – Art Spiegelman
The only thing I can think to write here is AAAHHHH!!!
Let me explain.
I have heard so many book bloggers and booktubers rave about this book. I have put off getting this for so long as I have never had any interest in graphic novels. After I heard about it and realised what it was about, I bought it, jumped up and down when it arrived and read it in three days.
Spiegelman depicts the story of his father – a Polish jew living – throughout his marriage, pre-war Poland and eventual capture and time in Auschwitz. Jews are drawn as mice and their Nazi tormentors are cats. Now I have a thing for historical fiction set in either of the World Wars but I am increasingly reading books about Nazi Germany. I am their moth and they are my light. I don't know why I was so excited when this came – maybe because it was different or because I had to wait a week – but I would not stop showing people it.
As my first experience with a graphic novel, I can highly recommend it and it has made me want to go and look at similar types of work. I loved it. I'm actually sad that it's over.
The Sirens of Titan – Kurt Vonnegut
I would always list Vonnegut as one of my favourite writers. As I said earlier, I love fiction about the world wars so I was instantly drawn to Slaughterhouse Five and Mother Night (which I read first). I bought Jailbird on my kindle during a sail and I did the same for this one. I also have a collection of his short stories in Look at the Birdie.
So when The Sirens of Titan came on sale, I had to have it.
I am both excited and hugely terrified of reading this book.  Why?
Because I also own Cat's Cradle. One of his notable works and one many hold in as high esteem as Slaughterhouse Five. And I have been forcing myself through it for over a year. I'm over a hundred pages in and I've given up to read more exciting works. I went to the doctors the other week and realised that the last time I was in the waiting room, I was reading the same book – a year ago!
It is just not capturing me like his other works did and if I start on another one of his works and don't like it, I'm not sure what I will do.
But alas, I will continue onwards.
The Rosie Project – Graeme Simsion
During my kick of buying paperbacks, I stumbled upon this. Although I thought it looked interesting, it wasn't enough to make it to the list that day.
And then I saw the kindle version going for 99 pence.
Who said Scots were cheap?
The Rosie Project gets great reviews and is described on Goodreads as the tale of an "oddly charming and socially challenged genetics professor on an unusual quest: to find out if he is capable of true love."
By February the 6th – yes, six days into the month – I had to put a book buying ban on. There wouldn't have been enough time in my entire life to read all of the books I was buying at that rate. Ten days after this, I bought another two. They are used. That doesn't count. Right?
Please?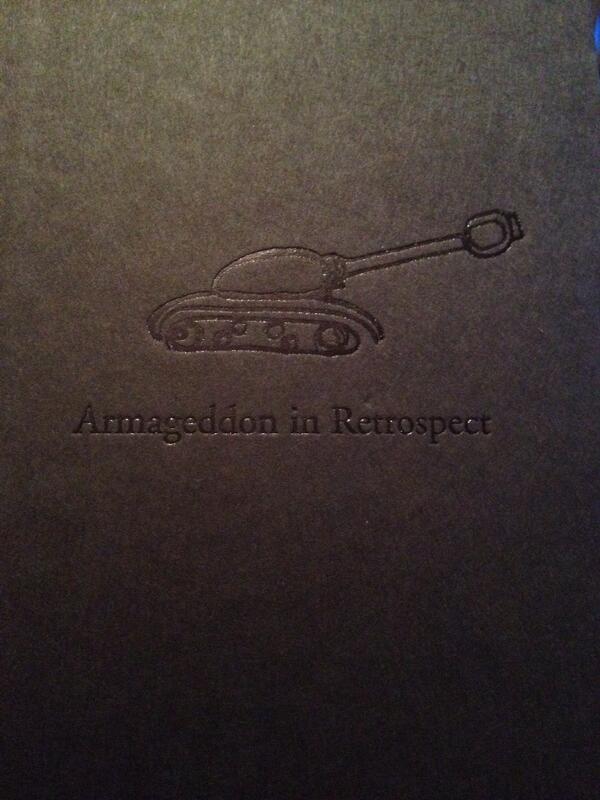 Armageddon in Retrospect – Kurt Vonnegut
I am still squealing over this book. I bought it used from abebook.com. The dust jacket is a bit wrecked but apart from that, the book is in perfect condition. In hardcover, none the less. Plus, how can you be upset with a tank on the front?
I had never heard of this before but as soon as I found it, I knew I had to have it. It is a collection of unpublished works of fiction and writings, mostly regarding Vonnegut's experience at war, if not directly then
I am over half way through and I am in love. Never before have I gotten through a collection of short writing before but I can't help myself. Plus, it is peppered with illustrations from Vonnegut himself. I think this might end up being my favourite book purely on how pretty it is inside!
Fahrenheit 451 – Ray Bradbury
Fahrenheit 451 appears on a list of literary lists including banned books. Giving that reading previously banned (and still banned in some places) book is about as wild as it gets, I had to give this a try. Another purchase from abebooks.com , although without the pretty cover and illustrations of Armageddon in Retrospect.
The story deals with issues of censorship (hilarious given that it was banned) and where books are considered to be the centre of unhappiness and disruption, therefore burned as part of a fireman's duty.
What have you been buying/reading this month? I have reinstated the book ban but we all know that I'm weak-willed and without self-discipline. Any recommendations for next month?
Give me a like or comment if you enjoyed this post :-).